RISE was founded in 1987 and our purpose has remained constant for more than 30 years.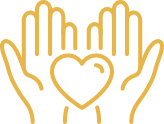 our mission
Creating opportunities for and with people. Since 1987, RISE has been changing lives with quality services and programs for individuals and families.
our services
RISE provides services that support children, adults, and families throughout Arizona, Utah, Oregon, and Idaho.

our values
Committed to safety, equality, and choice, we place service above self and encourage our team members to do all they can to exceed expectations.

our vision
To support the total person physically, mentally, emotionally, socially, and spiritually.
RISE is defined by its values and beliefs
RISE Services, Inc. has provided services to children and adults with disabilities in their own homes, their family's homes, our host homes, our residential homes, and on-the-job worksites since 1997.
We work in 16 counties and have eight offices across the state, including Salem, Albany, Eugene, Roseburg, Bend, Pendleton, and La Grande. We currently serve over 1,200 customers each year and have about 850 employees.
We believe in person-centered supports and meeting individuals right where they are in order to build on their strengths.
We believe that communication is behavior and vice-versa.
We believe in partnering with families to provide individualized care for their loved ones.
We believe in the intrinsic power of vocation, both for our employees and those we serve.
We believe in providing the most progressive support and maximizing technology and systems for greater efficiency.
We believe that quality is defined at the point of interaction between our customers and employees; essentially, we know it when we see it.
We believe in community and partnerships and know that we are stronger together.
We believe in trauma-informed support, and we work to encourage self-care for our employees in order to avoid burn-out.
Our mission is to create opportunities for and with people - those we serve, their families, our employees, and our community.